Film gives us the rare opportunity to completely question all that has come to be accepted in terms of the language of architecture as well as architectural and historic convention. Vitruvius claimed architecture was composed of the triple essence: strength, utility, and aesthetic effect. Sir Henry Wotton (1568-1639) quaintly changed this to, 'commodity, firmness and delight.' It would be safe to say that the majority of architecture that has been created to date has attempted to follow this dictate.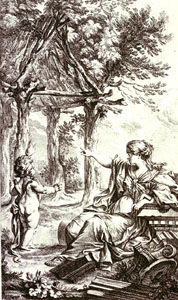 Laugier's Rustic Hut
Why then, has much of the "interesting" film architecture, been used to both create and support environments and social situations whose purposes are more dystopic and that attempt to create fear in the occupants?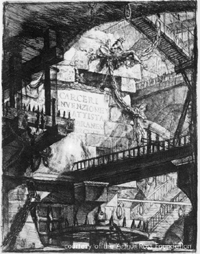 Piranesi Carceri
There also appear to be distinct ties between the artistic or cult status of these films, and similarities in the surrealist movement in art and film.
This web project indentifies prevalent themes throughout films that address the issues of dystopia and more broadly, fear.