Terri Meyer Boake B.E.S. B.Arch. M.Arch.
Associate Professor School of Architecture University of Waterloo
Case Studies in Canadian Sustainable Design:
Image Gallery:
---
Jackson Triggs Winery

Kuwabara, Payne, McKenna, Blumberg Architects

Niagara-on-the-Lake, Ontario

About the building:
The winery was completed in July 2001 and has a floor area of 54,000 square feet. It was designed to optimize quality in the wine-making process and professes to use sustainable design in its construction. Its architecture is very contemporary in spirit and the locals either love or hate the building. Its design contrasts sharply with the more historic character of Niagara-on-the-Lake and the other vineyard "retail" architecture of the area.
research paper
(to follow)

quick facts
(to follow)



Summer view of front with central corridor open.

November view of front with door panel closed.

Soffit and clerestory detail.

Detail of truss as it penetrates clerestory.

Rear of building as it faces the vineyard.

Upper level exterior entrance at top of ramp (for tour).

Ascending the ramp to the entry level of catwalks for wine tour.

Looking down the ramp. Cleaning the window.

Bridge that crosses over central breezeway.

Connection details.

Interior. Stainless steel wine storage vats.

Overview of interior, largely lit by clerestory window.

Detail of timber to steel connection at bottom of truss.

Down in the storage cellar with vaulted concrete ceiling.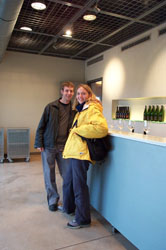 Kate and Dave, after a difficult 4A field trip.

The images on this site have been taken for use in my teaching. They may be copied for educational purposes. Please give credit. These images may not be reproduced commercially without written consent.
last updated June 3, 2005