Design Performance Objective

Students: Harry Wei, Anne Cheung, Peter Kitchen, Connor O'Grady

Winter 2008 - Arch 125: Intro to Environmental Design

The Smokebox

This project will help to visualize and validate expectations of air flow through space when you design buildings for passive cooling and ventilation . This is intended as a demonstration project, meaning, the results are not 100% accurate, nor are they quantifiable, but they are visual.

Objectives

Understanding of basic principles of low velocity airflow in and/or through a constructed space.
Ability to conceive of, and develop a methodology for investigating low velocity airflow in and/or through a constructed space.
Awareness of the potential for architectural form to influence airflow patterns.

Measurable Outcomes

Visual demonstration of basic airflow principles.
Written and graphic presentation (record) of the evidence.
Documentation should indicate one or more descriptive characteristics of airflow which have been illuminated.

Investigative Strategy

Create a tectonic shape using black foamcore and plexi glass that demonstrates air flow through a space. Predict the air flow by creating a magic arrow diagram.

Evaluation Process

The students present their magic arrow diagrams and we test their models as per the setup illustrated below.

Evaluative Criteria

The match between the predictive magic arrow diagram and the action of the model. The visual quality and clarity of the airflow as a function of the design of the model. The craft of the model.
Cautions - Possible Confusions
The students make their models with details that are too fine for the theatrical smoke. The interior foamcore must be fairly tightly sealed to the back and plexi glass so that the smoke does not leak and prevent us from seeing its action. The smoke intake must be sealed or it spills all over the place. Students neglect to understand that flow goes from left to right, and we have to rearrange our setup to test the models.
Range of Applicability in terms of CLIMATE
The project is climate independent.
Range of Applicability in terms of TYPE
This type of approach could be modified to be less sculptural and more realistic. We choose to be more tectonic to allow experimentation.
Reference Material
Heating, Cooling, Lighting. Norbert Lechner
Class powerpoint:
Passive Cooling
Duration of Exercise
The project has a two week turnaround but takes only several hours to complete.
Degree of Difficulty / Previous Knowledge Required
Easy. Students have had their lecture in Natural Ventilation as preparation for the project.

Setup/Equipment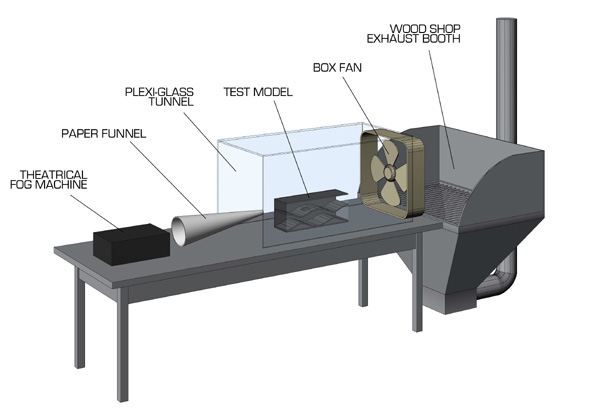 The presentations are conducted in our shop with the fume exhaust running so that the theatrical smoke is drawn out of the room. The fan assists in accelerating the flow of smoke through the model. The plexi glass tunnel helps to confine the smoke. We have the students all dress in black and hang a black sheet behind the setup to cut down on reflections when we are documenting the project.