Seven Frames of Reference
Senior Architectural Design Projects
Architecture + The Landscape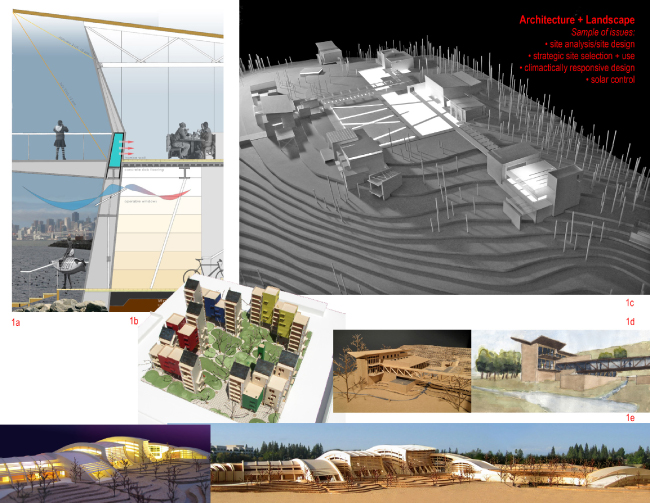 Design Performance Objective

Architecture and Landscape

Site analysis/site design; strategic site selection + use; climactically responsive design; solar control
1a: Environmental Education Center, Alameda, CA. An example of the recycled use of military land.
[Melissa Godfrey]
1b: Artists' Live/Work Housing, Orange County, CA. Infill urban site, exploring a balance of density and usable green space. [Phil Cardon]
1c: Cancer Rehabilitation Center, Angel Island, CA. Sensitive and effective site planning (to aid in the healing process). [Mark Fairman]
1d: Wellness Center, Indian Springs, ID. Exploring a design enhancement and site restoration of an abandoned site. [Nicholas Holmes]
1e: Wellness Center, Fresno, CA. Subtle manipulation of landscape for experiential as well as performance purposes. [Rodney Laurel]

Students: as noted

Software / Tools:

Digital Modeling Software

Arch 481 Senior Architectural Design Project Studio/
Arch 492 Senior Design Thesis Seminar

Architecture + The Landscape

Philosophy

Place-making is essential in the creation of meaningful architecture, no matter what the scale. Scale of settlement patterns and appropriateness of setting are vital issues in any successful architectural endeavor. The specifics of any given place, its genius loci, must be understood and respected. In addition to phenomenology and place, creating symbiotic relationships with the land should be the goal of all of our built artifacts.

Design Performance Objective

Demonstrate sensitive and appropriate site responsiveness (for both human appreciation and well-being as well as for the support of natural systems), according to project particulars. Through design, explore the meaning of "place."


• course and project outline

Investigative Strategy

Physical and digital modeling as appropriate for each given project.

Evaluation Process

Demonstrate learning and outcomes via digital and/or physical modeling as well as drawings at discussions, critiques and presentations. Demonstrate "place making."

Evaluative Criteria

Demonstrate appropriate "place making" according to the specific project challenges. Outcomes vary due to the nature of individual thesis projects. As a minimum, projects was demonstrate appropriate and constructive response to solar use and control, in addition to sensitivity to the natural and cultural physical situations of the site situation. The projects must also demonstrate the effective and strategic use of the site in creating "delightful" space for people.
Cautions - Possible Confusions
For some students, the challenge in effective "place making" in terms of site use can be overcoming the urge to design an object in a field, as opposed to utilizing architecture to shape not only interior but also exterior space.

Range of Applicability in terms of CLIMATE
ALL
Range of Applicability in terms of TYPE
ALL
Reference Material
Varies according to project.
McHarg, Ian, Design With Nature (Garden City: Doubleday/Natural History Press, 1969).
Portoghesi, Paolo, and Erika Young, Nature and Architecture (Milano: Skira, 2000).
Thompson, D'Arcy, On Growth and Form (London: Dover, 1992).
Wines, James, Green Architecture (Koln: Taschen, 2000).

Duration of Exercise
The duration of the entire thesis sequence is 30 weeks. Projects are continuously reviewed and publically presented, including watershed presentations at: week 9, week 13, week 16, week 19, week 22, week 28, and week 29. Three thesis books are required (week 10, week 20, week 30). Final projects are documented in thesis books, due week 30.
Degree of Difficulty / Previous Knowledge Required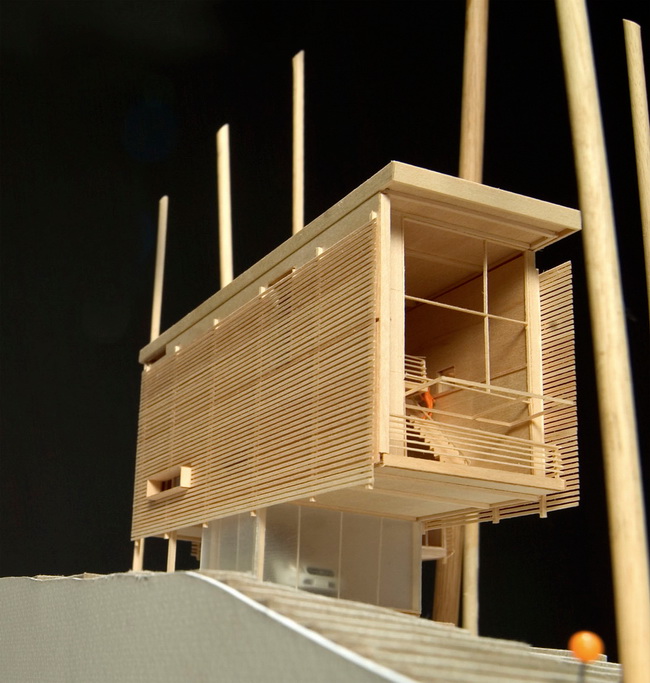 House for a Craftsman, Bainbridge Island, WA. Site responsiveness and sensitivity.
[Matt + Natalie Grummer]


Revitalized use for an urban landfill. Interdisciplinary project (architecture + landscape architecture).
[Tracy Worth and Maria Lawler]