Contemporary Case Study Projects
Canadian War Museum, Ottawa, ON
The Canadian War Museum in Ottawa, Ontario, used Architecturally Exposed Structural Steel to create two very unique rooms within the museum complex. Regeneration Hall was intended to mimic a twisted war torn landscape. The main exhibit hall that houses the war planes and tanks needed a large truss that would permit maximum freedom in the accommodation of the large exhibits.
| | |
| --- | --- |
| | The Canadian War Museum is well integrated into the landscape of the Breton Flats and is in close promixity to the Parliament Buildings. |
Drawings form an important part of the design and detailing process when it comes to the connections in the steel structure. Where the architect will come up with the design idea or parti that drives the project, and the engineer the main load calculations, it is the steel fabricator who must detail and erect the project, that really begins to assist in the design of the connections.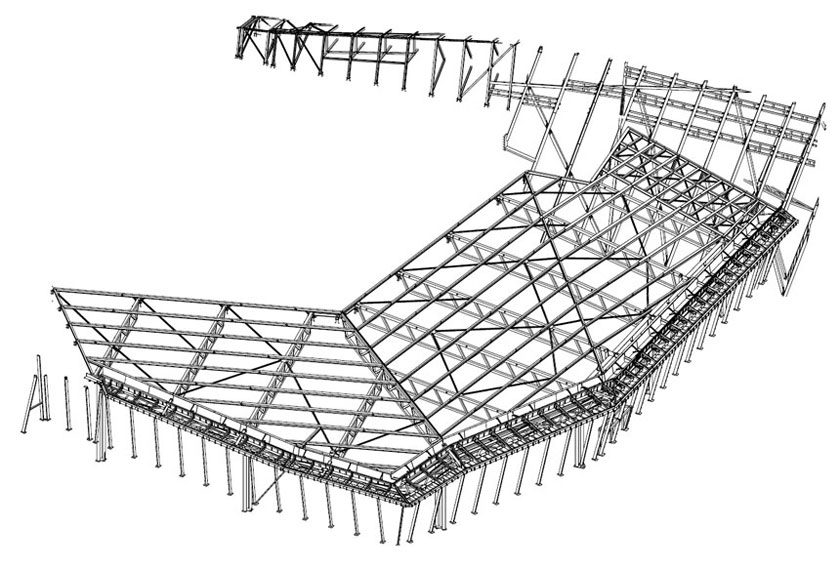 This aerial axonometric view of the Main Exhibition Hall of the Canadian War Museum was created by the steel fabricator and erector, Walters Inc., as part of the drawing set that was used to detail the project. Drawings like this are taken from a 3D set that is used to detail the connections, down to the last bolt size and weld description.
The alignment of the primary trusses that span the hall is evident. A secondary system of beams frames across the trusses while a tertiary system of braces stabilizes the oddly shaped roof. At the right hand side of the diagram you can see where the framing of this hall must be detailed to abutt Regeneration Hall.
Image courtesy of Walters Inc.